Sunday, 26 July 2015
July 22, 2015
Tornado touched down Southwest of Calgary, says Environment Canada!
Have a great week everyone and be safe!
Sunday, 5 July 2015
What a long week! Went back to work after July 1st holiday, did 2 days and seemed like a month! Things keep getting stranger by the day at work, now everyone is told that they need approval for everything! Even to buy a lunch for a customer! OMG...like I say, those toilet tissue rations are getting closer by the day!
Friday, July 2nd, was the beginning of Calgary Stampede....the big parade was yesterday! As you can guess, not a lot of people in the office either! Ummmmmmmm, wonder where they were! LOL
Beautiful sunny day here...hubby has been working since 7:00 AM and just finished at 10:30...do you really think the company appreciates his efforts? NOT!
Making BBQ ribs for dinner....have them marinating in ginger ale at the moment! They look good already. Delicious but had to finish them in the house as we had a wicked storm, thunder & lightning and high winds.
Saw on the news this morning that another horse had to be put down at the Calgary Stampede after the chuckwagon races...had a broken leg. So cruel to animals that why I have never wanted to attend the event.
Heavy hail, flash flooding as Calgary hit by sudden storm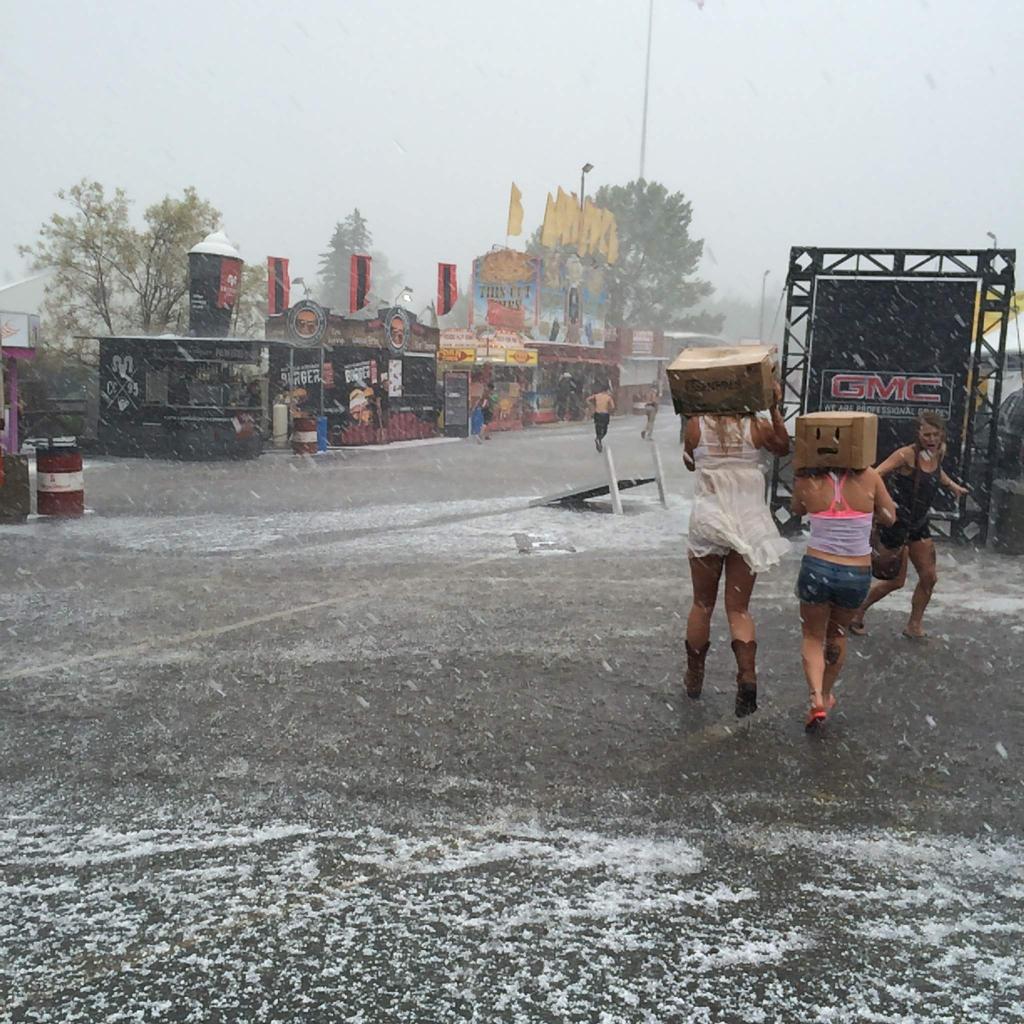 Stampede Grounds July 6, 2015
Concert at Cowboys Tent July 6, 2015
Looks Nasty!
Much cooler today and it was great for sleeping last night as well. Nicer temperatures this week and for the most part looks like the sun will shine as well. Company Stampede BBQ is this Friday and NO I am not doing the cooking this year.
Could be a very interesting week coming up, all depends on ONE phone call!!!! Seems people are coming out of the wood work now for some reason!
That's it for now, have a great week everyone. Be safe and God Bless. Talk soon!
Wednesday, 1 July 2015
We left on Saturday morning, headed to the great USA. Ended up in Idaho, Coeur d'Alene....little did we know that there would be no room at the inn! Headed back to Kalispell, MT, in total a 12 hour drive. We called ahead to make sure we could get a room at the hotel we always stay at! Yep...we are in! Exhausted by this time, temperature was 102 F...have a couple of drinks and off to bed. Think it was around midnight that we ended our day.

Still snow in the mountains!
Canadian Pacific
How about a drive in this?
Good use of an old boat!
Next morning, off to my favorite nursery where I took some great pics and got a ton of ideas for gardening. Now to have a place to put all these ideas into play!
Angie's Greenhouse, Columbia Falls, MT
Love the wagon!
Thoughts for a old broken pot!
Had a wicked thunderstorm during the night....and the rain came down in buckets. Hopefully it has helped with the forest fires. I looked outside during the night and huge water flowing down the street in front of the house.
Back to work tomorrow...but at least it's only two days this week. When is the next long weekend! Apparently our work is having a stampede barbecue....have to wonder about this. Why are we being mandated to take days off without pay and we can have a BBQ! But then there are a lot of things about this company that make no sense. I think this year so far we are at about 30 people that have "left the building"....or quit! They just got tired of the BS!
Today is a little cooler but nice and sunny. Happy Canada Day! Sure would love to see the festivities on Parliament Hill...perhaps some day when we retire.
Here are a few pics of our latest journey. Hubby and I call it making memories of us! We are each others best friend! I couldn't be more thankful that I have him in my life!
White water rafting, Glacier National Park
Eagle for sale
Wal Mart parking lots Kalispell, MT
Memorial in Kalispell, MT
Wal Mart parking lot, Kalispell, MT
I decided to throw in a few pics of our house here in Calgary. Heaven knows our house in B'ville sure isn't as clean and tidy as this one is!
Our living room 51 Millrose Pl SW Calgary AB
Dining Room
Kitchen
Master
Ensuite
Spare Bedroom
Going upstairs

Have a great week and Happy Canada Day! Have a great week!